Best AR-15 Triggers: Our Top Trigger Picks For Your Next Build (2019)
Nov. 15, 2019, 5:17 p.m.
The AR15 is the most popular rifle in the country at the moment. However, unless you are buying a kitted-out rifle, the MilSpec triggers are usually 100% steaming hot garbage. Even if you used a stock trigger for 100,000 rounds in the military, I'm positive you'll LOVE some of the triggers on this list. Drop-in triggers are the current standard for upgraded ARs, as they allow the fitment, interaction, and placement of parts to be tightly controlled at the trigger factory, as opposed to the gun manufacturer's facility. Drop-in kits are designed to be placed directly into your gun, pinned or bolted in, and that's it. If you have even a basic understanding of your weapon, you should be able to do this with relative ease. If you have any issues, there are literally hundreds of YouTube videos that can show you how to do this, and with the relative lack of tools needed, most of the time you can get away with using the trigger manufacturer's included wrench (if present) and a ballpoint pen to get these things installed. If you feel nervous, of course, take it to your local gunsmith, but I assure you, this is easy. The key is to do all the work in a well-lit, non-carpeted area and for you to WEAR SAFETY GLASSES. These little springs can come up and blind you for life in the list we have included the top of the price range and bottom as well, so there's something for everyone here.
Comparison
Product

Franklin Armory Binary Trigger
CMC Single Stage Drop-In Trigger
Geissele Two-Stage Trigger (G2S)
Timney Targa 2-Stage Trigger
ALG Defense Enhanced Trigger
CHECK PRICE
CHECK PRICE
CHECK PRICE
CHECK PRICE
CHECK PRICE

Pros

Super-fast rate of fire

Selector goes all the way to "auto" as the Good Lord intended

If you don't want to shoot the second round, it can be disabled by rotating the selector to safe.

Great feel for AR trigger

Easy install

Weight and trigger face options

Exceptional 2 Stage trigger at a great price

Trusted by the Military to use in their firearms

Crisp break and smooth reset

Timney triggers are works of art

Great flat face and light pull weight for fast shooting

Longer pull to help with accuracy

Great upgrade for cheap

Complies with all department regulations

Clearly, lots of research went into this trigger

Cons

Very Expensive

Illegal in some states and competitions

Complicated install

Doesn't like hard primer ammos

Harder install than a drop-in trigger kit (no more complex than a Mil-Spec trigger, however)

No flat face trigger option at this price

Expensive for a 2-stage flat face (but worth it)

5.5lb triggers are no fun once you have tried sweet 2 stage gear

This is a well built trigger that will allow you to fire twice as fast down the range. However, this feature comes at a price with it being the most expensive in the lineup.
Fantastic single stage trigger which offers lot of ways for customization such as pull weights and trigger face options.
One of the cheaper two-stage options and is even trusted by the Military so you know it is good to go.
Awesome two stage trigger that is great for the shooter who is looking to get faster more accurate groupings.
Great budget trigger which is still way better than an ordinary mil-spec trigger.
In case you aren't familiar with the Franklin Armory binary trigger, let me introduce you to the hottest thing since Full Auto was regulated by the NFA. ATF defines semi-auto as firing one round per manipulation of the trigger. The Binary trigger allows you to shoot when you squeeze the trigger, and then when you enable the trigger to return to the resting state, the gun will fire again. This results in the ability to shoot VERY rapidly, literally twice as fast as you can generally manipulate the trigger. The Franklin Armory trigger also has a normal semi-automatic mode that is a single-stage, which helps go to a range and stay under the radar. These triggers may have some complications when installing, so a beginner might want to consult the net before install and keep a gunsmith on speed dial.
CMC is a Texas-based accessory manufacturer that has a stellar line of triggers for ARs as well as some other guns. The CMC drop-in trigger is very easy to install the part that allows for a little bit of customization regarding pull weight, trigger face, and even the type of pins used to install it. CMC's claim to fame with these drop-in kits is the surface finish of the mating surfaces of the trigger. CMC's critical sear engagement surfaces have a proprietary machining process that renders superior surface finish and dimensional control. As compared to their competition, the techniques used to establish a 1-2 RMS surface finish as opposed to EDMing, which leaves a pity 32 RMS, compared to a mirror, which is 0 RMS.CMC gives you the option to choose from a 3.5lb trigger up to a 6.5lb trigger and a flat or curved trigger face. Lighter triggers can possibly have issues with primer activation on older surplus ammo, but this is not a common issue. Drop-in triggers are legal in almost all competitions and as mentioned earlier, are very easy to install.
Geissele is the Maybach of AR15 triggers. They aren't drop in like the CMC or Timney, but they are genuinely exceptional triggers. Geissele makes triggers that have ended up in actual military firearms. Many companies talk about their LE and MIL usage, but few have actual users to prove it on the battlefield. Geissele is not the most innovative with these 2 stage triggers, but they definitely have the best track record behind them. Geissele has a number of trigger options, but the one in this list is a 2-stage trigger. The G2S is made from tool steel, which is a huge plus, and comes in at a price that is accessible by most folks for around $165, as opposed to some of the more expensive options that Geissele has.
If you aren't familiar with a 2-stage trigger, they aren't all that complicated. What this means is that when you pull the trigger, it comes to a "stop" that you can feel. This is the end of the first stage. Once here, the next section of the trigger pull will be whatever weight you select it to be on the website. This allows you to have a very consistent trigger pull as well as the ability to set your trigger up between shots. Timney is one of the best-known names in aftermarket triggers and has some serious innovation coming out of their shop. From the Calvin Elite, which is a fully adjustable trigger shoe 2 stage monster trigger to this more run of the mill 2 stage, Timney has your trigger needs covered and supports the greatest range of firearms of almost any trigger manufacturer.
All of these options are over $100, but some folks just want a quick upgrade of their mil-spec trigger. ALG has designed the QMS trigger to replicate a Mil-Spec trigger in every way but make it with a little more attention to detail. They specifically address the grittiness, and inconsistent pull feel by honing the sear surfaces smooth while not removing metal below the valleys of the stock surface finish. The trigger and hammer are made from pure 8620 alloy steel military specification castings, correctly carburized, quenched, and tempered for high surface hardness. The disconnector is 1070 High Carbon steel Austempered into the spring range of hardness, and the trigger and hammer pins are improved over stock mild steel by using 4140 Chrome-Moly steel that has been quenched and tempered. Pins are centerless ground to a fine finish and a diameter 0.001" larger than stock to reduce play in the trigger assembly while retaining a slip fit into the weapon lower receiver. Mil-Spec hammer springs are used to ensure proper primer ignition and be compliant with departmental regulations.
What all of this means for you, the consumer is that for less than $50, you get a really lovely trigger that is normal in every way for an AR and doesn't break the bank. If you just want a little upgrade, this is a great decision.
Whichever trigger you choose, it will be a welcome upgrade from the standard triggers that ship with most ARs. The author recommends the Timney for a 2-stage trigger, but the ALG QMS and $100 of ammo is a better choice, as training with your setup is always more important than the gear you have! However, if you can afford both an excellent trigger and some ammo, go get 'em!
Editor's Picks
---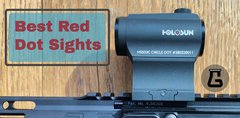 Best red dot optics for your next build. Red dots are a versatile optic that can be used on a number of weapons. Make sure you get the features you are looking for.
Read more
The ultimate guide to building your custom AR-15. We go through each step and show you the process to assemble an AR-15.
Read more
Ever wondered how people got PMAGs in crazy colors that you can't seem to find on the Magpul site? We will show you how to dye a PMAG any color that you wish.
Read more
Looking for an idea for your next build? Need a new truck gun or something for home defense without trying to break the bank? You can now build your next AR-15 for under $500...
Read more
One of the more interesting and complicated aspects of AR ownership is short barreled rifles. A short barreled AR-15 is any AR that has a shoulder stock, with a barrel length of less than 16 inches...
Read more