Editor's Picks
---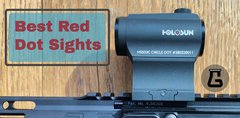 Best red dot optics for your next build. Red dots are a versatile optic that can be used on a number of weapons. Make sure you get the features you are looking for.
Read more
The ultimate guide to building your custom AR-15. We go through each step and show you the process to assemble an AR-15.
Read more
Ever wondered how people got PMAGs in crazy colors that you can't seem to find on the Magpul site? We will show you how to dye a PMAG any color that you wish.
Read more
With all the options on the market, we break down our top picks for the best AR-15 triggers to add to your next build.
Read more
One of the more interesting and complicated aspects of AR ownership is short barreled rifles. A short barreled AR-15 is any AR that has a shoulder stock, with a barrel length of less than 16 inches...
Read more