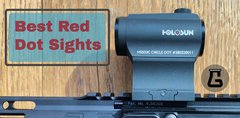 Best red dot optics for your next build. Red dots are a versatile optic that can be used on a number of weapons. Make sure you get the features you are looking for.
By:
MyGunLab
on Feb. 18, 2020, 3:30 p.m.
The ultimate guide to building your custom AR-15. We go through each step and show you the process to assemble an AR-15.
By:
MyGunLab
on Feb. 1, 2020, 11:58 p.m.
Ever wondered how people got PMAGs in crazy colors that you can't seem to find on the Magpul site? We will show you how to dye a PMAG any color that you wish.
By:
MyGunLab
on Dec. 24, 2019, 1:29 p.m.
With all the options on the market, we break down our top picks for the best AR-15 triggers to add to your next build.
By:
MyGunLab
on Nov. 15, 2019, 5:17 p.m.