With all the options on the market, we break down our top picks for the best AR-15 triggers to add to your next build.
By:
MyGunLab
on Nov. 15, 2019, 5:17 p.m.
Looking for an idea for your next build? Need a new truck gun or something for home defense without trying to break the bank? You can now build your own pistol or short barreled rifle for under $500...
By:
Zach
on July 2, 2019, 8:41 p.m.
One of the more interesting and complicated aspects of AR ownership is short barreled rifles. A short barreled AR-15 is any AR that has a shoulder stock, with a barrel length of less than 16 inches...
By:
Zach
on Feb. 26, 2017, 10:32 p.m.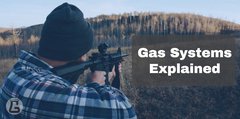 The AR-15 rifle isn't a complicated rifle and most people can build one by themselves with little to no training. One of the more complicated systems in the AR-15 is the gas system. More specifically, different length gas systems...
By:
Zach
on Feb. 26, 2017, 9:06 p.m.