Editor's Picks
---
With all the options on the market, we break down our top picks for the best AR-15 triggers to add to your next build.
Read more
Looking for an idea for your next build? Need a new truck gun or something for home defense without trying to break the bank? You can now build your own pistol or short barreled rifle for under $500...
Read more
One of the more interesting and complicated aspects of AR ownership is short barreled rifles. A short barreled AR-15 is any AR that has a shoulder stock, with a barrel length of less than 16 inches...
Read more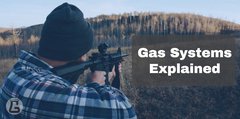 The AR-15 rifle isn't a complicated rifle and most people can build one by themselves with little to no training. One of the more complicated systems in the AR-15 is the gas system. More specifically, different length gas systems...
Read more
The AR 15 system is the most popular firearm in the United States. There are hundreds of manufacturers pumping out rifles and the American people are buying them up left and right. Because of their popularity and easy to customize nature, you can change everything. This includes the trigger...
Read more